Welcome to Cryan Veterinary Hospital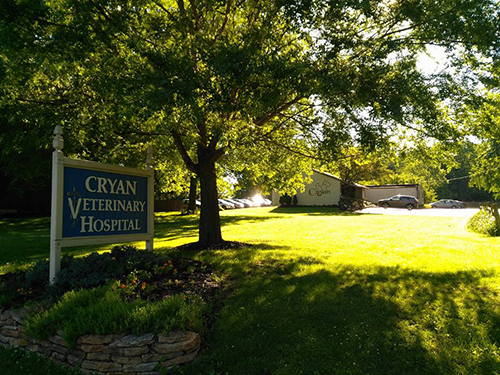 Cryan Veterinary Hospital was founded on March 15th, 1946 by Dr. John Cryan, better known in the community as "Doc Jack."  Doc practiced alone until the summer of 1977 when his son, Pat Cryan, joined the practice as a newly minted veterinarian from The Ohio St. Univ.  Doc and Pat practiced together for 12 years until in 1989, after 43 years of practice, Doc Jack retired and sold his interest in the practice to his son Pat.  Dr. Pat Cryan continued to grow the practice and solidify its place as an institution in the Westerville community.
Dr. Pat Cryan eventually sold the practice to a small group of doctors in the summer of 2007, one of which included his associate Dr. Deanna Balaazs. Dr. Cryan retired from practice in November 2021.
Cryan continues to serve the citizens of Westerville and surrounding areas, and carry on the tradition of exceptional patient care and service to our community which started so many years ago.
Our extensive list of services range from full wellness checks, to advanced medical and surgical procedures, such as oncology and orthopedic surgery. Whether we are cleaning teeth or helping your pet recover from a serious injury, our state–of-the-art equipment and procedures prepare us to serve you and the smallest members of your family in the best way possible.
Click here to see a more in-depth list of services, or give us a call! We would be happy to answer any questions you may have over the phone at (614)882-4184.