Medical Services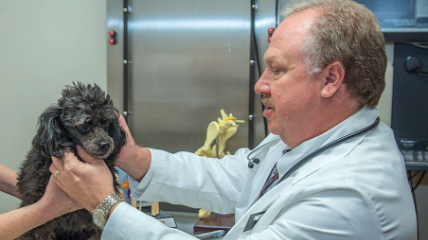 Oncology
We offer diagnoses and treatments of many cancers right here at Cryan. Our veterinarians offer experience in performing both surgical and pharmaceutical treatments for cancers in pets. In addition to our in-house doctors, we also offer oncology consulting services from Dr. Guillermo Couto. Dr. Couto is a specialist in oncology as well as clinical pathology and provides our doctors with diagnostic and treatment options custom tailored to your pet's specific type of cancer.
Medical Boarding
In addition to the great care that is offered to all of those who board here at Cryan, we also provide the ability to administer medications (oral or injectable) by a trained technician. Whether your pet is recovering from an illness, surgery or procedure, or is simply on regular medications, we are able to offer outstanding veterinary oversight and care while they stay here.
Diagnostics
There may be occasions when a routine physical exam isn't enough to determine why your pet is ill. Cryan is happy to offer in-house digital radiography, ultrasound, and much more, providing detailed information about your pet's condition so our team can treat the problem in the most effective way as soon as possible.
Some of our diagnostic tools include:
Digital body and dental x-ray.
Modern ultrasound
Complete in-house lab machines for bloodwork.
Microscopy to help diagnose ear infections, urinary tract infections, and to look at cells to determine if they are abnormal.
Part of the Cryan difference is our level of empathy and compassion for pets and we truly understand how it feels to cope with a pet's disease. If your pet begins to show signs of illness, know that we will work closely with you every step of the way to reach a diagnosis and formulate a treatment plan that works for you and your pet
Second Opinions
We are happy to work with other veterinary clinics in Ohio to help solve whatever is ailing your pet, and receive second opinion referrals often. Please feel free to contact us for a second opinion.